Photo: Dan Tomson (@dannothomson)

Tori ANderson
Womb Tang Leader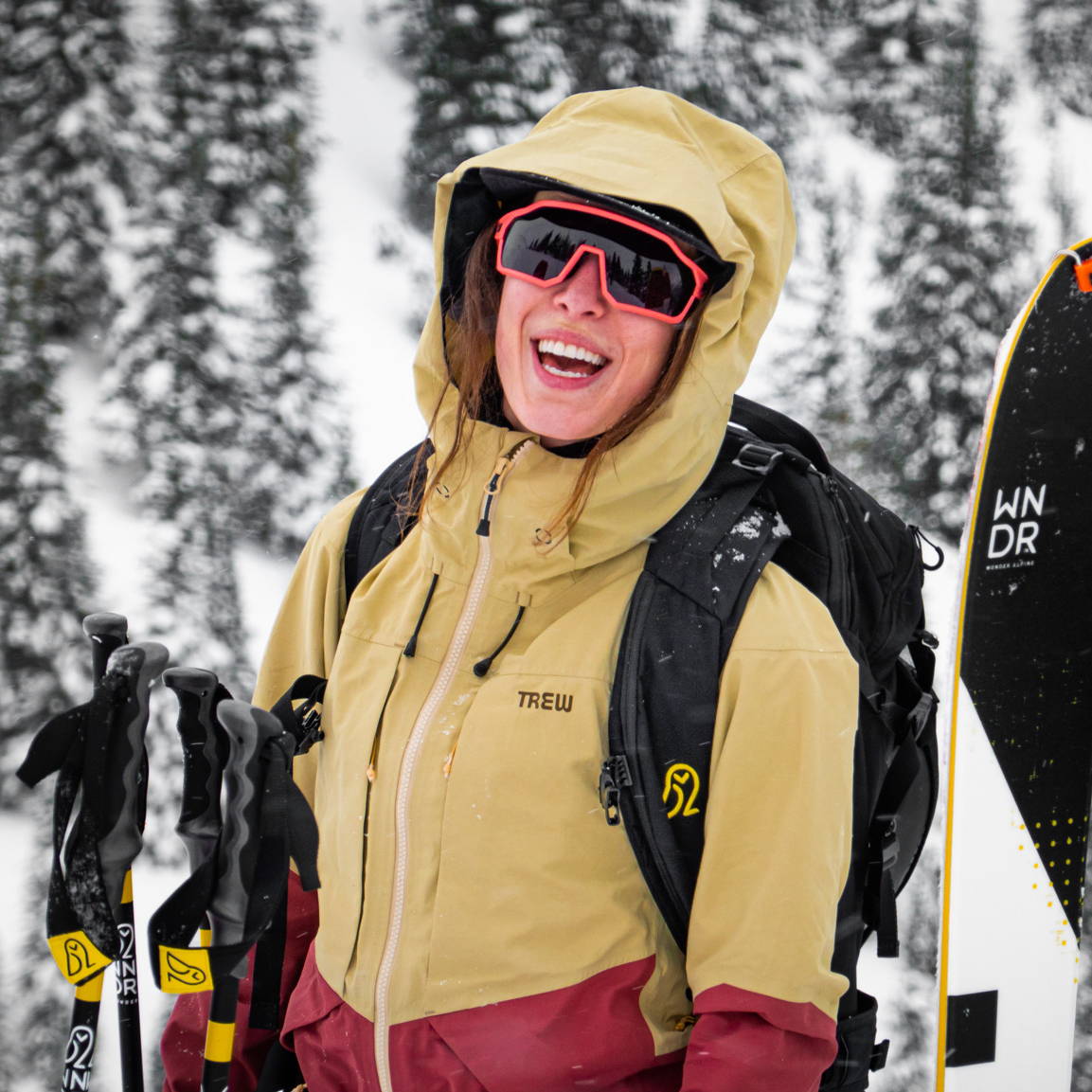 Photo: Dan Tomson (@dannothomson)
I grew up skiing the same mountains that shaped my Dad and Grandpa into the people they are today. My Grandpa was a mountaineer with countless summits under his skis and my Dad competed on the Alberta Downhill Team. My family has lived in the Bow Valley/Rocky Mountains for close to 100 years. It's an honor to carry our legacy forward as the first dedicated female skier in our family. I clicked into my first pair of skis at 2 years old and proceeded to ski race on the Nancy Green Team for 6 years before shifting to freeride. As an adult, I recognize how privileged I was to have had those experiences as a kid but at the time I absolutely hated ski racing. It was too structured and the training made me feel trapped but I am still so grateful for that training. It set me up to pursue the creativity and flow that I crave while skiing bigger lines or chasing backcountry objectives as an adult.  
        I have battled with my mental health for most of my life. I had crippling anxiety as a teenager and really struggled to find my place. I was bullied a lot—usually by other girls—and had very little confidence. As a young adult, I survived an abusive relationship and developed severe PTSD. It took 5 years after my trauma to get a diagnosis and treatment. Getting help was the best investment I have ever made but I also wouldn't be where I am today without skiing and the female community that I found through the sport.
        Everything changed for me when I moved to Wanaka, New Zealand for my first southern winter in 2015. I met so many incredible female athletes through my job at a local ski shop. They were self-sufficient mountain babes who bucked harder than 90% of the men on the mountain and supported each other unconditionally. That was the first time I had ever experienced the power of healthy female relationships and realized I had finally found my place. Those women showed me you don't need a man to reach your goals in the mountains and we are stronger together. They took me into the backcountry for my first time and were so patient with my questions and my 8000 failed kick turn attempts up steep, icy switch backs. My experiences with those girls shaped my choice to chase back-to-back winters for the next five years between New Zealand, Japan and Canada while fueling my passion for empowering women in the outdoor industry today. My only goal is to be better than who I was yesterday—as an athlete and person—while lifting other women up to do the same.
        Skiing is how I connect with and express myself; it's taught me how to push my mental boundaries, conquer fears and trust myself; it's helped me recognize my strength and given me the courage to unapologetically own all that I am and believe in all that I can be. The second I get into the front of my boots, I leave my head and get into the moment. Skiing is so much more than sliding down frozen water on two planks of wood—it's a global culture of freedom, presence and expression. The backcountry is where my dream and current path began and it's where I will continue to grow. My goals over the next few years are to become a self-sufficient mountain babe with the experience and knowledge to ski lines I have always dreamt of while supporting other women to do the same. I am so excited to continue this journey with WNDR's support and to keep growing my community of badass women.
---
BORN
Cochrane, AB
RESIDES
Canmore, AB
Currently charging through my final year of achieving my Bachelor of Business Administration (BBA) with a Major in Marketing and Minor in Entrepreneurship and Innovation.

Bisset Scholarship for Excellence in Business; 3.80GPA; Mount Royal University – 2019 and 2020

Out of Bounds Podcast Guest, Episode #98 – 2020

Ski Talent for Icebreaker's FW19 Commercial Photoshoot – New Zealand, 2018

Ski Talent for Kailas FW19 Commercial Photoshoot – New Zealand, 2018

Skied year round from 2015 to 2020, completing 10 back-to-back seasons between Canada, New Zealand and Japan.

Learned how to ski park, stomp 360's and skateboard at the ripe age of 26 (ouch)

Stomped a backflip off of a 20ft cliff into a lake during my first summer in 5 years

Womb Tang Clan "Founding Father" (Instagram: @womb.tang or www.wombtang.com)

I suffered a severe traumatic brain injury in 2018 and wasn't allowed to compete or travel deep into the backcountry for a year and a half. When I was medically cleared to compete in February 2020, I snagged a last minute spot in the Lake Louise Big Mountain Challenge and finished 4th. Couldn't have asked for a better comeback!

10 years of experience working as a boot fitter and snow hardgoods sales expert.

Proud to be a third-generation skier and backcountry badass in the Canadian Rocky Mountains. Ride or die baby! But do it for the girls!!!
---

---